NAWO Odisha
The National Alliance of Women (NAWO) is a national network of women. It is an umbrella organization and affiliation or membership is open to all progressive minded women's groups and institutions, non-governmental organizations, women workers, women's unions, individuals and others who share the principles, objectives and values of NAWO, as defined in the NAWO vision.
One Billion Rising 2015-16

A brief Report of One Billion Rising 2015-16
On the occasion of World Human Rights Day
10th December 2015 at Ekamra Haat, Bhubaneswar
Background: One Billion Rising (OBR) campaign is a global call to action to stop violence against women and girls. It is about connecting all efforts across borders and boundaries to create a safer world for women and girls. The call for One Billion Rising Campaign has been given by the well known feminist activist, playwright and actor Eve Ensler. It aims to mobilize and bring out one billion people on the streets across the world on 14th February, 2016, to sing, dance and protest, to end violence against women and girls ONCE AND FOR ALL.
state level youth convention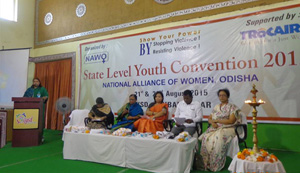 To curb the violence against women there is a need to constantly work both with men and women. We realize that it is very important to intervene in the socialization process if we want to break the oppressive pattern of patriarchy. That peers in educational institutions like school and college are the most crucial as it has a great socializing influence in shaping their value system.